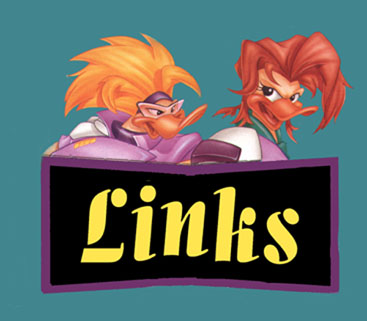 (Want to link to this website? Click here.)

*Aerowing
Just another site for some far out stories, brought to you by Spirit Vanderflock.


*Agent Di's Universe
A site full of animated series fanfic, fanart, profiles, and more. An ever expanding universe covers series including: Mighty Ducks, Darkwing Duck, Men In Black, Invader Zim, Beetlejuice, etc.

* The Anaheim Pond
Visit the Anaheim Pond for an experience you won't soon forget! A page put togeather by Cara Featherblade.

Angie's Ultra-Cool Page O' Stuff
Another new site in the works.

*!!Avalance!!
A little thief's little contribution to da duck's.
*Beyond the Blade
A Mighty Duck fan fic sight. Dedicated to the affiliate orginizaton, of the brotherhood of the blade. There are storys, pics and everything else.
*The Bloody Cutlass
A bar for DA villains. Mighty Duck fans might enjoy asking our head waitress for a drink.

*Brotherhood of the Blade
Yeah, someone had to come up with it eventually. Hi all, why don't you drop in to my new (and very buggy) site, the Brotherhood? I can't guarantee you will leave alive, though.

Brotherhood (Sisterhood) of Stuff
Funny fan fiction and lots of caffeine

*Bushroot's Toon Page
One of the fan pages where people think the fan fic is out of this world. Includes crossover fan fic, links, and other links not related to the Ducks.

*C25- Nylessa's Quarters
My quarters at the BOTB; original fanfic and fanart; links and information on Puckworld.
*Calista's Crossroads
Calista's personal online Art Gallery. A great place to find some of her best Mighty Duck artwork.

Candy's Mighty Ducks Headquarters
She's got some great artwork.

Carnival Knights
Renee's duck page

* The Cavern of the Griffons
Home of Kazora the Griffon.

* Chaos Central: The Mighty Ducks
Information available on this site include character bios, episode summaries and fan fiction.

* The Compound
A site dedicated to a group of six cartoon alien ducks.(aka Mighty Ducks The Animated Series). A fan's site. It's got fafic, pics, and more. Is under eternal construction.

* The Crib
The home of Marina LeWebb, puck-shooting private eye! Fan fic, bios, and more.

Da Nest
A page done by Mousy Vanderflock.

*Dancing Silhouettes
Mighty Ducks fanart with a japanime flourish. Mostly character pics of fans.
*The Disney Villain's Sounds Page
Devoted to sound files of Disney villains. Featuring over 600 sounds from over 60 villains, and growing all the time.

* Dive's Digs!
Dive, Dive and more Dive! A site dedicated to da Dive...with a few pics of the other Ducks as well..eventually..

* Divewing's Strange Little World
Hope to have pics, a poll, a link to Mallory McMallard's homepage, and maybe fan fic!

* The Dragon's Den
Where you can read about Zelda the Dragon who helps out the Mighty Ducks..

* Ducks Rock!!!!
A cool cucky place with Profiles, Fan fic and cool stuff yet to come!
Ducks Rock!
Duck art can be found here.
*The Eden Institution: A Haven For Mighty Ducks: The Animated Series
The usual YKYWTMMDW, though all original, a few fics, art, and some celebrity/Duck look-alikes.

Elizabeth's Headquarters
Where you can meet the Nukem Ducks

The Final Frontier...
Where you can see some of Phil's publicity stunts.

Fruitcake, a little bit in every bite
An assortment of Mighty Ducks, Darkwing Duck, Quack Pack, Gargoyles pages.
*Gallery Knixs' Mighty Ducks Web page
It's a bit sloppy, but she says she'll fix it up over time, IT'S UNDER CONSTRUCTION!! I was only able to put up one of my stories. Check it out!!
Gretchy-Girl's Bunking Quarters
Fanfic from a Wildwing lover
*Hanger Bay
Another site in the works.

Heather's Homepage
Another place to find crossover fan fic.
The Insiders View Sauria
Brought to you by Princess Sheeba Marie, a Saurian

Janey's Mighty Ducks Page
A site with some upcoming fan fiction.

*Jazzy's MDFF Fanpage Homepage
A new page in the works by Jazzybell.

*Kaladan's Place
Fanfic from Canard's twin sister, Kaladan.
*Kaos Girlz
Hey, we're just 5 girls who get messed up with the team
Kit DeCaine's Mighty Duck Hidaway
A site decaited to the mighty ducks, done by Kit DeCaine, Skygem DeCaine, Darkshadow Nightfang and Firesky
*Lady Fever's Ducks Lounge
More duck fan fiction.

*Lauren/ Jo's Mighty Duck Page
Fan Fiction, Pic's, Sites and much more comin'. This Page is totally dedicated to the Mighty Ducks the animated series

Leila deSilver's Lil' Vault of Drawings
Where you can find some of Leila's artwork.
*Lyric's Hangout
Another new Duck page in the works.

Mallory
A page dedicated to Mallory.

* Mallory McMallard's Homepage
A page dedicated to Mallory. Also has a voting booth and fan fiction.

Mighty Ducks
A duck site just starting out.
The Mighty Ducks
Another site for fan fiction

* The Mighty Ducks
A small Mighty Ducks site.

*The Mighty Ducks Animated Series
Some profiles, original artwork and a few sound files.
*The Mighty Ducks: The Animated Series
Mighty Ducks Fan Fiction by Starsong.
Mighty Ducks and Other Characters
Some fan fiction about the Brotherhood of the Blade.

* Mighty Ducks Central Command
Has fan fics, art, and lots more!
* Mighty Ducks Fan Domain
The Saurians have, at long last, managed to get their entire fleet out of Limbo, and the Mighty Ducks have a grave problem on their hands. To combat the Saurians, Ducks from other alternate dimensions are brought to Earth, in the largest accumulation of fan characters in any MD:TAS fan-fic! Stop on by and sign your character up to help.

* The MIGHTY DUCKS Lair
A Ducks site introducing characters on the side of the Ducks, plus other surprises!
* Mighty Ducks - The Next Gerneration
Story so far: Draganous broke free again and the Mighty Ducks have to go back on planet earth to catch him. With them are some new/old friends.
Mighty Ducks: Puckworld's Little Nut
An art site basically. Fan fic here and there. And screengrabs, mustn't forget those.
The Mighty Six
A place to find fan fiction and fan art.
*My Timeless Heroine
A site dedicated to Duck fan characters.

*New Pucropolis
Usually called The Abyss' Core, but very soon I will be moving addresses, and going through a major overhaul, so....pLot's of pics and stories, always more on the way, keep your eyes open!
Nitefire Elite
A new band of ducks, called the Assassins.
*Nosedive's and Jadestar's Incredible Homepage
Fan fiction, pics of Dive, Jadestar!
*The Official #Mighty_Ducks Homepage
A page dedicated to #Mighty_Ducks, IRC's first and only Mighty Ducks Channel. Art commissions are offered and sumbmissions are accepted.
* The Order of the Silver Shield
A Mighty Ducks Make your own character site.
Palmfeather Productions Presents... Britney
Mighty Ducks, original pics, fan fics, Disney, etc.!
* Peacekeeper HQ
Kasar's site. Still in the works.
* The Penalty Box
Five- count 'em people, 5- very cool duckies run this page, so we've got it all! Come check out our characters' hangouts and much more! New additions:The Drinking Game, Mysty's Ultimate Character List, and you can hear our favorite songs! Soon to come: Fanfics and original art!
* Pluckyland
Stuff on Darkwing Duck and The Mighty Ducks.
The Quarters
Owned by Jin, and it has pics, soon to have screengrabs,chat,downloads, fanfic

*Puckworld Communications
Join the Webring, Mailing List or just stop by and chat with friends.

*Rach's Pond
A new site in the works, with more fanfiction to come.
The Realm
Enter the site for Saurians, run by the master-Wraith's grandaughter.

*Rebecca's Duck Page
Stories, profiles, poems, and stuff, always being updated!
*The Rebellion
The Rebellion's Headquarters.
Resistance Headquarters: Anaheim Base
A fun place run by the Ducks of Anihiem..You know, now that ya think aobut it that explains the lack of Updates! So surf in and Hang out. We got Fics, Art, and new inventions!

RHQ
Rebel Headquarters The list for the rebelious at heart, soul and spirit

*Ripcord's Hanger
Just another bid for the right to flight.
*The R&R Zone
Trinette's Duck page.
Salutations, Fellow Ducktinites!
Duck art can be found here.
Sisterhood of the Blade
A thieves' den, like the Brotherhood of the Blade. Consists of fan characters, fanart, and fanfics.
Skie's Totally Completely Superly Amazingly Pointless Mighty Ducks the Animated Series Page
Another Duck page in the works.
Skysurf's Fan-Fiction Archive
A crossroads of fan-ficion for Television Series written by David Wise.

StivzWorld: Home of the Silver Mask
Check out his plans for the Second Line.
Tabbie's Cyber Central
A place to read more fan fic.

*Tek's Place
Still under construction, lots of fan fics.
Therendy's Storybook
Where you can vote for you favorite duck.
* Toon Queen's Place
Many differnt cartoons, including Mighty Ducks.

Turbulence Ducaine's Mighty Duck Page
A site that introduces a new duck to the team.
*The Twin's Lair
This site, which of course is devoted to the Mighty Ducks, is run by Missie and Joy Vanderflock-DuCaine. Come check out their room in the Anehiem Orphanage
*The Unofficial Mighty Ducks Rest Stop
This reformatted site will unravel Puckworld in the time of Drake DuCaine's day--including profiles, descriptions of geography, and others!
*The Vault
Tania's Site. She's a first-year animation student with aspirations to work for Disney and a penchant for drawing ducks.
Vicki Featherwing's Domain
A place to read more fan fic.

Places to Chat
Message Boards
If you have a link you want to add to the page or if your link is here but the information is wrong email me.