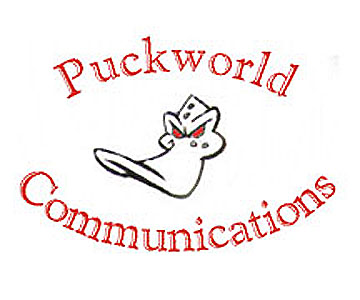 Joining the Puckworld Communications Webring is relatively easy, just follow these steps
(you may want to print them out first):
1. First go to Puckworld Communications Webring and click on the "join this ring".
2. Next you need to have a WebRing user id (what you will be kn known as on WebRing). Click next to "create a new WebRing user id" if you don't already have one (it's free). If you already have a WebRing user id sign in.
3. Follow the steps to sign up.
4. Click on "Return to mightyducks"
5. On the left under "member tools" there is a link "Manage Ring Sites".
6. On the left of this page under "member tools" there is a link "Get Navigation Code". Go to this page.
7. Towards the bottom of this page there is a code that you can copy and paste. This is the code that needs to be put on your site. It works best if it is on the main page of your site so people can find it easily. If you already belong to another webring run by WebRing you will not need to enter this code code on your page again, it will be added to your stack of webrings.
8. After the navigation bar is on your site email me at Starrfire@geocities.com and I will add you to the webring.
Note: Emailing me that the webring code is on your page will speed up your membership to the ring.

Back to Puckworld Communications Central


Back to Starrfire's Domain